Hey affiliates!
We have officially ended John Assaraf's launch and wanted to congratulate everyone of you who made it happen! Huge round of applause to all of the hard work being put into the EPIC launch!
As a reward, today I will share with you 5 most effective techniques of using Retargeting to help you boost the revenue of your launches.
A little back story,
our Mindvalley Insights Team
 stumbled upon the power of Retargeting by first experimenting with Google's Remarketing cookies on one of their old launches. Little that they know that the ROI hit over 300%!  
It didn't take long to know that we stumbled on a gold mine, so we then drove to innovate further in our retargeting techniques using multiple platforms.
I wanted to make sure you have 5, clear, actionable techniques to get started.
*****Warning – Advanced content*****
Most of the terms and concepts speak to those knowledgable of the launch formula – We don't go into the details of using facebook advertising or google advertising, but rather ways to use it to complement your launches.
#1 – Facebook Custom Audiences to Build Bigger Sublists
Whenever there's a launch we want to build a sublist of prospects from your email list. The thing is, not everyone is going to open their emails, so you can instead upload your audience to facebook and target them using FB ads so that they know about your launch. Sure, you might have to pay a bit for them to sign up but you can build your sublist a fraction of what you can make during your launch.  When we did that for our launches – we were able to to increase our sublist size by 20%.
#2 – Webinar Reminder Campaign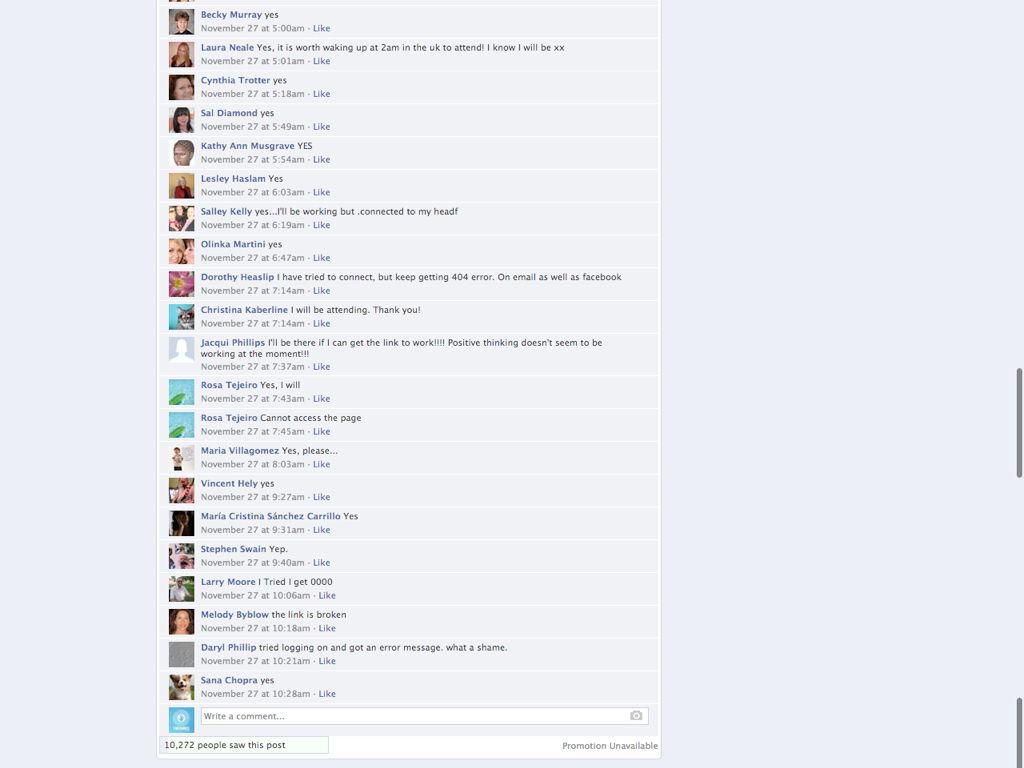 Once you have built your sublist, you can then upload the same sublist to facebook and target them with a specific ad, asking them if they are attending the webinar or not. Of course, since they already signed up on the sublist, most likely they are going to say yes. I'm going to show you a screenshot of an ad I created on facebook, which I asked people in the sublist to comment below saying "Yes" if they are attending the webinar. This creates a ton of social proof and also creates a form of commitment in your sublist that they will attend the event. (remember, getting your list to convert on the sales pages is basically getting them to make a series of mini "yes-es", also known as the yes ladder).
#3 –  Retarget Non-Buyers with your Offer
We know people who have attended the webinars or launch content are highly engaged with your launch, therefore it makes a lot of sense to show your launch offer to the same audience. With this strategy alone we have made $1000s of dollars with ROI as high as 500%. Remember, before your launch you'll have to set up the retargeting codes on your website so that you can cookie visitors who land on your website.
Google Trick
We also found that during a launch, you can make a lot of extra revenue by launching search campaigns on google on brand keywords or author keywords because people will be searching about these terms during the launch period. This creates a great opportunity for you to get your offer in front of them and monetize.
#4 – Target your Offer to the Whole Sublist
The next strategy is pretty straightforward, but yields some of the best ROI we've had in our retargeting campaigns. Basically, you upload the whole sublist to Facebook and retarget them to the launch offer using FB ads. Remember to customize the message as you know that they have already engaged with your launch by enticing them with phrases such as "launch special" or create scarcity by telling them its a limited offer.
#5 – Mirror your Launch flow on Social Media
The final strategy which has helped us gain tons of profits is through the use of our Facebook fan pages. Basically if you have a facebook fanpage with a wide audience, you can create posts and promote them to your fans by aligning the posts with the progress of your launch. This creates a form of unified front as many people will be talking about your launch and you will get a lot of free traffic and sales by just mirroring the launch content on your fan pages.
Track your Data – Spend Wisely
Last but not least, I just want to emphasize that tracking is extremely important when you do retargeting. Some campaigns can burn money really fast if you don't monitor their ROI. So make full use of existing tracking tools that you have. We also found that high ticket products work a lot better (assuming you have a decently crafted offer and sales copy). This is due to the rising costs of advertising in Facebook, so you'll have a harder time making back your ad spend if you are selling a low ticket product.
I hope you have found these tips useful, go ahead and apply them in your next launch!
Have a great day ahead!
Maggie
Affiliate Partnerships & Support
P.S This post has previously been published on
Mindvalley Insight's Blog
. Here's to sharing more of these valuable insights to our dear affiliates. 🙂